The Village at Corte Madera is a shopping center in southern Marin County. It's notable for having a fountain, a soft-surfaced play yard, and a five-story-tall observation tower over a bandstand.

Momma goes there for Crate and Barrel, Baby Gap, and Nordstrom's.

Here is what Eiche goes there for (no, this isn't him):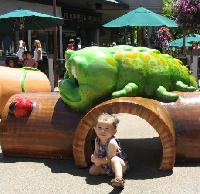 Compare the Corte Madera Town Center on the opposite side of US Highway 101, which has the Fresh Choice salad bar restaurant, the Container Store ("Contain Yourself"), Radio Shack and Recreational Equipment Inc.
See them on the web, where else but http://www.villageatcortemadera.com/ .
---
Places
---
Home Recent Changes
This page last edited January 24, 2005
Find Page by browsing or searching