3-Aug: Eiche is 2 1/2 and feeling his oats!

5-15 Aug: Melissa begins The Lifeways Training at Rudolf Steiner College in Sacramento. Jeff comes out for a week + weekend to watch Eiche after Auntie Dar takes the first few days. We go and see the California State Railroad Museum http://www.csrmf.org/ the first Sunday and take a ride on a steam train.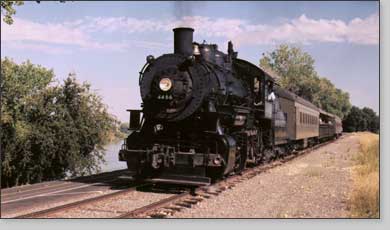 The Steam Train from Old Sacramento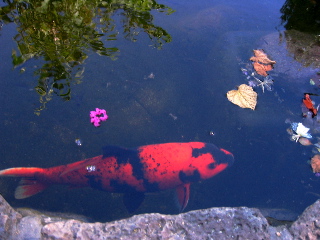 Eiche's favorite fish in the RSC garden
The big orange carp seen in April2003 is still there. Eiche kept wanting to feed sand to the fish. He feeds fish food to the koi at Auntie Dorrie's roof top garden in Oakland--sand must seem like the next best thing!
31-Aug: EicheWiki restored by dint of a little editing of the text database dump, followed by much cutting and pasting. New LogoBaby from our latest visit to Sacramento, Eiche climbing a tree with rainbow dyed silks drying in the background. The silks are dyed with natural products--sunflower heads, various tree barks and roots, dead bugs--as part of Melissa's Lifeways Training! Much fun had by all!
---
EichesJournal (Last entry November2003) July2004 September2004
---
Home Recent Changes
This page last edited January 9, 2005
Find Page by browsing or searching