September 2004 begins with us giving notice on our one-bedroom apartment at TheCove in preparation to move across the swimming pool courtyard to a 2-bedroom apartment.

We are not going to Burning Man, although there apparently will be numerous children there, some young. It will probably be just as well that we will miss the heat, blowing dust, and loud noises (Eiche doesn't like firework noise).

We did go to the CotatiAccordionFestival to dance to the beer-crazy beat of Polkacide! Eiche shakes a radical tail feather at his third appearance at the site of mom and dad's first official date.

AuntieDar is going to Philadelphia to register voters, and she will be following EicheWiki from afar.

Mid-September: School is starting up again. This year Eiche and Melissa will be going to a parent-toddler program at SanFranciscoWaldorfSchool involving cooking and crafts.

Relatives and Cousins on Jeff's side of the family are visiting Croatia and Italy this month. We are looking forward to hearing reports from Walker and Lauren!

Our front deck garden is bearing modestly. Here is Eiche holding some peppers: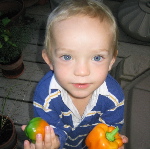 Eiche got an infected bug bite on his wrist and had to take icky pink liquid antibiotics. After a few bad times, he seems to have settled down to struggling a little and getting over it. He even reminded Daddy, "Time for icky pink stuff?"
---
EichesJournal
August2004
October2004
---
Home Recent Changes
This page last edited October 5, 2004
Find Page by browsing or searching