Describe HarvestDayAtTheFarm here.

From EichesJournal October2003.

Horses ("horse!"), sheep ("baa!"), a calf ("moo!"), chickens, turkeys, pumpkins. Lots of pumpkins.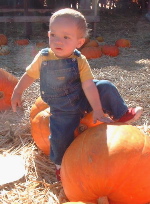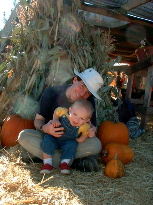 See the Marin Agricultural Land Trust at http://www.malt.org/
---
From the MALT website:
Harvest Day at the Farm
It's hard to say who has more fun at Harvest Day at the Farm, kids or adults, because there are smiling faces all around at MALT's annual autumn festival held this year at the Lafranchi family's Nicasio Valley Farms on Sunday, October 12 from 10 A.M.-4 P.M.
Kids can scramble up haystacks, take a pony ride, do rope tricks, or pick organic pumpkins right from the field while adults go for a hay ride, do the hokey-pokey or taste the delicious food prepared by local folks with ingredients from Marin farms. The feast of food includes oysters, barbecued chicken, local wines, homemade candies, and other treats.
This year we also celebrate the talents and labors of the Mexican community which contributes so much to agriculture.
We just missed the mariachi band, who were leaving as we arrived. -- Jeff
---
Home Recent Changes
This page last edited August 31, 2004
Find Page by browsing or searching