July 2003 starts with Momma, Dad, and Eiche together in Sacramento where Melissa is taking a course entitled "The Fundamentals of the Waldorf Kindergarten" at Rudolf Steiner College. Poppa and Momma decided to spend some time at RSC to see if Waldorf education might be a good fit for Eiche and our family as well as a new professional development direction for Melissa. After Momma spent ten happy days painting, singing, making dolls and being inspired, she says an enthusiatic yes! Daddy spent one full day doing an overview of the K through 8th grade curriculum and had positive feelings as well.

All return home on July 6, happy to be back! Jeff finally gets to try out his new iBook.

Eiche is throwing and climbing.

Latest baby trick: He climbed into a chair, then from the chair into his high chair and sat down in the seat, all with the tray attached. He's getting pretty good at this climbing thing.

Now that he associates his high chair with eating, he will point to it when he's hungry. We're keeping it lying down on the floor when he's not in it, to prevent him from climbing on it when we're not looking. He also understands that our little one-step step stool is for moving around where you want to climb up. It's enough to get him up to the front burners of the stove, so we're being extra careful now!

12-13 July: For Melissa's birthday, we had a quiet day of rest at home. On Sunday, we went to Angel Island on the ferry from Tiburon and took the tram around the island. We had trouble with weak camera batteries, though.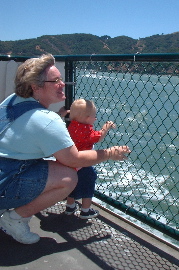 On the way back from Angel Island
19 July: For the weekend of PapaEd's birthday (and to help celebrate Melissa's), PapaEd and NaNita came up to help Melissa and Jeff get further moved in. By the end of the weekend, the kitchen was looking much improved and we had 3 baby gates and a roll of fencing ready to hang up on the back deck and across the kitchen. Plus new camera batteries.
28 July: Momma saw imitation in full "swing" while observing Eiche at the Belvedere playground today. The playground was streaming with kids and parents playing together on this bright, sunny morning. As Eiche wandered about to see what everyone was doing, he found a rather sad looking little baby doll someone had left behind. After standing by the doll and wathching a nearby mother nurse her baby, he picked up the little doll and started to "rock" her. He traversed the whole yard several times with his new friend tenderly clinched under his chubby arm, occasionally stopping to give the baby a kiss or pat. Then he came upon the infant swings just as a mother was pulling out her toddler. He stopped, considered, and then struggled quite a bit to get the baby doll in the high swing. When he succeeded, he beamed at her and started to push her just like the "other mom" next to him. The fact that he shortly abandoned the swinging baby for the teeter-totter doesn't cloud his attempt to "love" the baby just like the others in the park were loving their babies!
---
EichesJournal
June2003
August2003
---
Home Recent Changes
This page last edited August 31, 2004
Find Page by browsing or searching