June starts with Momma, Dad, and Eiche together in the new apartment in Tiburon.

GrandmaJoan comes to visit. Momma, Dad, and Grandma Joan go to a picnic for Jeff's uncle Jim and cousin Gene, and Eiche gets to meet his new cousin Lucas, as well as cousin Gabriel. He plays with his beach ball, with a football, and in the creek.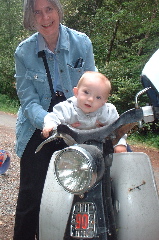 Eiche and Grandma Joan at the picnic
He is definitely a toddler. He is cutting molars now.
Like in April2003, we go to Sacramento so Melissa can take education classes. Our friend Dorrie Lane helps out watching Eiche so Jeff can go to Salt Lake City for the Agile Development Conference.
Eiche practices his throwing. He is getting better at it.
---
EichesJournal
May2003
July2003
---
Home Recent Changes
This page last edited August 31, 2004
Find Page by browsing or searching