What a toddler!

One thing we've seen Eiche do a couple of times is to walk down a set of stairs, saying "No" on each step. "No, no, no, no...".

He's also using the sound "A-ma!" for "I want", sometimes accompanied by pointing.

Eiche can climb stairs very well. One day, he climbed up to the top of an observation platform and down again (maybe the equivalent of a 4-5 story building) at the VillageAtCorteMadera. In fact, he did it twice on the same day.

The first weekend of August, Momma, Dad, and Eiche went with PapaEd and NaNita to their friends' condo in Carmel. Eiche had his first trip to the Monterey Bay Aquarium. He loved to watch the jellyfish in the special featured exhibit, especially the Blue Jelly from near Australia and the Upside Down Jelly. Some of the jellyfish were very lively swimmers. Mom and Dad admired Haeckel's anatomical drawings of jellyfish symmetry.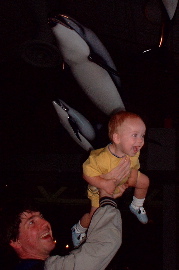 Eiche with the dolphins at the Monterey Bay Aquarium (may be dark on PCs, should be fine on Macs)
Eiche is 18 months old on the 3rd.
An updated LogoBaby image from June 20. Unfortunately the Mac iBook and IBM PCs have different screen contrast settings (gamma values), so that a picture that looks fine on the Mac looks murky on the PC, and a picture that looks fine on the PC looks washed out on the Mac. Looks like I over-did it on my second try at the LogoBaby, he's washed out on the PC too!
On the way to pick up daddy at the Tiburon Ferry on Thursday the 6th, Eiche showed off two new words to momma: "tickle, tickle," inspired by Helen Oxenbury board book of same title and "bu-ay," for the bright bay waters we pass on the way to town.
Melissa tries out iPhoto on Jeff's iBook, and is sorting our pile of digital pictures into albums. Stay tuned!
Newly clear words Sat. 9th: "More!" and "Bubble". Picture is "Pic-urrr". He's doing more imitation of words.
August 10:

 Momma: That's a tired baby!
 Eiche: Nomnot!
 Momma: Yes you are!
 Eiche: Nomnot!




13 August: Eiche suprised momma today by showing he associated a particular location with a memory of an enjoyable experience he had there once. Sometimes when daddy misses the ferry, we drive him into the city. As a treat we may stop at Border's Books by Pier 39 as they have a table top train set that Eiche enjoys playing with. Today, in the middle of a long period of choo choo fun, Eiche suddenly took off. Momma gave hot pursuit as he sometimes head for the escalators! Not today though. Instead he went all the way across the large children's area, went directly to a shelf, plucked out a book in the shape of a fire engine complete with moving wheels, and continued on to a small stage area with benches. He proceeded to push the fire engine book along the stage making all kinds of "siren" sounds, occasionally peaking backstage and "calling" out "a-ma" (we think this is an all purpose "I want" word). I was so suprised! Eiche had only played with the fire engine book once much earlier in the summer with another little boy who had also danced a charming jig on the small stage which delighted Eiche. I couldn't believe he remembered where the book lived on the many shelves and where the stage area was, nonetheless that it was in this bookstore, not one of the many others (sheepish grin) that daddy and I take him to! Amazing! Of course, his developing memory has a small downside--he is not as easy to distract away from an off limits object or a no-no activity as he one was! Sigh....

Team Eiche is back together again! Melissa's parents have come out for a visit from New Mexico.

Aug 19: To celebrate Grandpa George's birthday, Team Eiche meets up at Pac Bell Park to watch a Giants/Braves game. Eiche does pretty well with sitting/standing round for the game, though Dad takes a break to walk him around the concourse. Very exciting, 2 splash home runs in a close game. Everyone goes home on the special ferryboat from the dock behind the stadium.

Aug 21: Eiche's "Well Baby" check-up at Kaiser. Hopefully he won't have to go back on the IckyIronDrops, but we are trying to get more iron in his diet.

Aug 22: Eiche has been using "Hi!" to greet Momma and Dad enthusiastically for the last couple of days. Grandpa George's Birthday dinner at The Outback Steakhouse, with AuntieDar coming up to visit.

Aug 23: fixed the LogoBaby picture. Team Eiche goes to the Cotati Accordion Festival and sees Those Darn Accordions, then it's dinner at our favorite family restaurant, Fresh Choice.

Aug 26: Eiche, Melissa, George and June leave for the California State Fair in Sacramento. Fireworks over the fair at 10pm.

Aug 27: Hot day in Sacramento, so plan is to go to the fair in the evening.
---
EichesJournal
July2003
September2003
---
Home Recent Changes
This page last edited August 31, 2004
Find Page by browsing or searching